Video content is under massive growth and will be the standard for distributing info here shortly in the next few years.  Businesses owners with a website who care at all about being seen on the web or found by potential customers should pay attention to coming trends.  Lots of businesses are using video, mostly incorrectly.  With just a few changes, you could be well on your way to reaching more of your audience.  
It's best to use a Naples web design company if you are in SWFL and or a video marketing company to shoot your videos professionally.  However a lot of people shoot them themselves and want to use their footage that way.  If this is the case then let's look at an example of how to set it up.  Say for example you have a service you want to promote and you have a short video clip of you working with a customer.  This video can be used in many ways but the most popular method for distribution is via YouTube.com.  
So here are the basics of setting up your video properly.  Upload your video to YouTube and give it a proper title which people will know what it is you're talking about and also keep in mind choosing something which could be a popular trend word or searchable word.  Most likely the video will need to be edited some to make it look better.  YouTube has nice little Video Editor which is simple to use and gets the job done.  You could add an intro/outro video to keep branding consistent.  Mashable had a good article on adding intros to YouTube, but we'll visit this in another session.  Edit the basic sound a video to fade in, as to not jump out or scare anybody.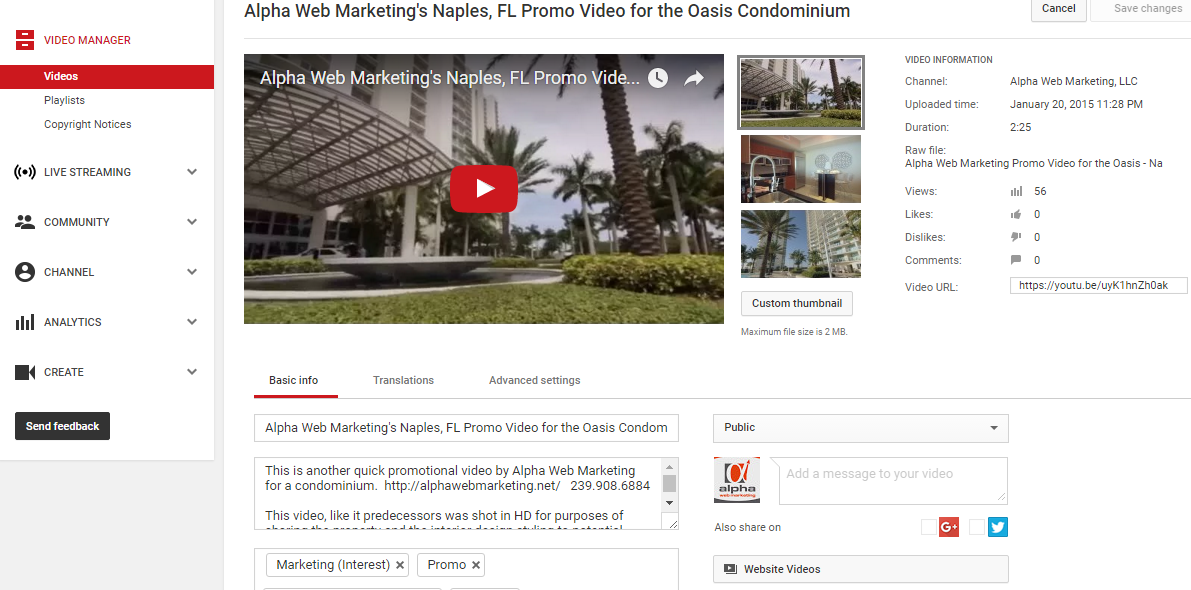 It's also a good idea to upload a customized image which represents the video and if your account doesn't have this option yet, then choose the best one YouTube offers you to choose from.  Create a good description where you are talking about what the video is about, who it's targeted to and why.  Also include your information to be contacted and your social media links and your website link so people can easily find other content you own.  Lastly put in the bottom keywords which are relevant to your video and in this case, the service being offered.  You can enter different variations of the keyword.  YouTube uses these keywords to help categorize the video based off keywords, title, description and much more.
Again these are just the basics and later on we will talk about adding Annotations and how to use them correctly, when and where. Plus we'll cover more in depth the description info, more video edits, and sharing.  For now anybody can start with these basics and play with the channel to get used to it.  A Naples website design company or a good Naples based video production team  if you are in the Naples or Ft. Myers, FL area…if not, use the best video cam you have to start with, test it and grow from there until you can afford a crew or upgrade your equipment and skills.